Turning log into lumber directly after just immediately cutting a tree is a cool way, right?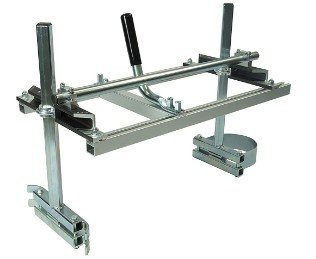 To do that you have to have a portable sawmill. And best alaskan sawmill like Alaskan Mark-Iv Chainsaw Mill can do this work with ease. However, this chainsaw mill can be operated by 1 or 2 people. So, DIY-er or professional can have this for a cutting plank or beam directly from the chop down tree spot. And can convert to different sizes lumber.
You may be thinking that there are lots of chainsaw mills that can do the work. And the real question is- why not another chainsaw mill than Alaskan Mark-IV Chainsaw Mill?
Well, let's find the answer through this article and meet with me at the end-
Whom is This Product For?
There are basically two types of sawmill- one is bandsaw mill and another one is chainsaw mill. Bandsaw mill is for the dense and large log. A chainsaw mill is used for soft and small log. And this Alaskan Mark-IV Chainsaw Mill can cut ½ inches to 13 inches thick up to a wide of 32 inches. So, if you the log is soft such as oak and the cutting dimension is a match, then you can go for it.
Those two are the main fact to think. Other than those, there are some facts to think about. Such as-
The rail sizes
Construction material
Weight of the chainsaw
Adjustable feature
Assembly option
Vibration while cutting
By considering all of the facts, the Alaskan Mark-IV Chainsaw Mill (36 inches) is suitable for-
Homeowners those have a small project
DIY-er and professional woodworker
Arborist and Sawyers
Alaskan Mark-IV – Best Alaskan Sawmill Deep Dive
No matter you are a professional, DIY-er or beginner the best alaskan sawmill can help you to make lumber from Cedar, Walnut And oak up to 32 inches long and 13 inches thick.
Constructed with High-quality steel and aluminum. That makes it durable and lightweight too. Lightweight means easily portable on project spot.
Also, the MK-IV does not require the drilled bar to clamp with the mill and saw. This means the assembly is pretty much straight forward and a beginner can do this with ease.
Another thing is, you can add length to this mill. You don't need to purchase whole set up if you need to add length. So, it is not limited to 36 inches log size. You just need to add a larger rail according to log size. Isn't it versatile?
However, vibration is the reason for uneven cutting. Thanks to its new cast iron made end brackets. It is now easier to adjust to lessen the vibration and the cast iron makes it nearly unbreakable. And the end result is a smooth cut.
Let's talk about the bar. The bar width is 25 inches. What if you have a larger wood than this? Don't worry. The mill can accept up to 30 inches bar width of the chainsaw. Just keep in mind that the replacement chainsaw must have 60cc displacement. So, you don't need to get a whole set up.
Controlling is the key factor above all to have a precise cut. Regarding this fact, you can call it a most controlled chainsaw mill. Why? Because of the handle position. It will be a great advantage if the handle is positioned in the middle of the mill, right? Thus, you will get straight and even cut. Keeping in mind that advantage, the handle is positioned in the middle.
Last, of all, you can call it the best chainsaw mill for the money. Because such a versatile feature is hard to find within this price range.
Highlighted Feature
Anti-vibration feature is the key for smooth and even cutting
Constructed with aircraft-grade aluminum and zinc-plated steel
Adjustable bar length up to 30 inches bar
Rail size is 36 inches and it is pretty much enough.
End brackets are cast-iron made; this is called CNC-machined metal. Which are virtually unbreakable.
Centre positioned handle for better control. It is a unique feature.
Pros
Cutting depth is ½ inches to 13 inches
Less vibration prevents uneven cutting
Durable, can stand against any kind of rough weather
The chainsaw mill can cut 32 inches long lumber
It can prevent rumble while cutting
Cons
The bar width is only 25 inches.
A beginner can face difficulty at the start and end of log cutting. A little practice can solve this issue though.
About The Brand
GRANBERG INTERNATIONAL is an American based manufacturer since the past 60 years. It is a family-owned manufacturing company.
At first, in the year 1960, Elof Grandberg acquired the rights of bar-mounted chainsaw mill. Since then they are providing small, large, affordable and quality chainsaw mill.
Their chainsaw mill Alaskan MKIII was so popular that it shook up the market for 50 years.
Now the Alaskan MKIV is the updated version of that model. And it gains as much popularity as its previous one.
However, the company is now operating by Elof's descendants. They are continuing to improve product line to makes log working task easier.
Verdict
OH, we meet again! Milling job is the primary job for every wood product. So, milling should be perfect for getting a better result. So, a good milling machine is a must-have product. And the Alaskan Mark-IV Chainsaw Mill is good enough, I think.
If you are going to work with the wood types like cedar to oak then this machine can meet all the factors that are needed for precise cutting.
However, there are many chainsaw mills in the market. I, personally found this mill great for homeowners as well as professionals. Because it can be operated by 1 or 2 people. That is great for small projects. So, make enjoyable your log to lumber task with this Alaskan Mark-IV Chainsaw Mill. Happy Logging!