Buying a portable chainsaw mill can bee a real headache. There's no surety that you'll get the best for your bucks. Even with a limited budget, everyone wants to get the best portable chainsaw out there. But it's hard to meet expectations with reality.
In this situation, the Farmertec HF80001 Portable Chainsaw Mill lands as a superhero.
This chainsaw mill was created with one motto. That is to give users the best experience in the lowest budget possible.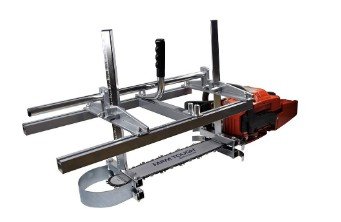 Now the question remains, how successful has it been on fulfilling its motto.
To answer that question, we have crafted out a fully detailed review. Here we have included the pros and cons, specifications and some FAQs.
So, let's cut our way right into the details-
Whom is This Product For?
The Farmertec HF80001 Portable Chainsaw Mill is more like a tool for everyone. From the beginners to the pros everyone and anyone can use it.
One can easily get hold of the operations of this machine. It takes a minimal level of maintenance and provides small scale efficient output.
So, we have prepared sample user groups of this item-
First-time millers who love simple assembly procedures.
Regular users who don't want to use expensive portable chainsaw mills.
People who want to set up their own small-scale mill
People who stumbled upon sudden tree milling tasks
People who have a low budget but want low maintenance products
People who want to keep a machine in their collection as preparation for household uses.
Simply put-These are either people who have a low budget or don't have a huge load of milling work. So, homeowners, woodworkers, and carpenters are its main users.
Product Specifications
Chainsaw Mill Material: Aluminum, steel, and acrylic or Aluminum Alloy.
Product Weight: 13.35 pounds
Size: 24 inches
Power Source: Chainsaw
Package Dimensions: 26.8 inches x 11.3 inches x 2.4 inches or 726.816 cubic inches
Batteries: Not required. Not included.
Features And Benefits
Every product has some features written on its product description. But no product description clears out what those features mean for the user.
Here we have tried to break down those features into more relatable scenarios.
So, let's get going-
This product is lightweight
Portable chainsaw mills come in a wide range of weights. Lightweight chainsaw mills mean you will be able to carry it down to the remotest place possible. Instead of skidding the whole log to your place, you can go to your logs with this mill and then carry those lumbers safely. This way your wood won't get damaged due to skidding.

Low Cost
This means our machine here is perfect for your small-scale DIY milling works. If you need to clear up those giant tree logs from your lawn, then this is the best item for you. You don't need to get those heavy and high-cost machines for these jobs. Just like that, if you're not into a huge milling project, then there's no need to empty up your pocket. And a low budget option like our machine here is truly best for you.


Adjustable Planking Milling Height and Width
This means you'll be able to cut lumbers of different dimensions. You can cut both thick and thin pieces. So, this will make your work a lot efficient.


Easy Installation
Installing some of the portable chainsaw mills becomes a horrendous task. Our boy here solved this issue too. With the machine, you'll get 1 set assembling tool and 1-piece user manual. Thanks to this, the installation process becomes super easy.

Warranty Available
This product comes with a 1-year replacement warranty. Which means if any part becomes unusable within one year, then the company will replace that part. Though the chainsaw and guide bar does not fall under this warranty still this is a pretty nice offer.
Now that we've gone through its features, it's time that we stacked up all its pros and cons. We have always believed that the pros and cons are a great way of deciding how good or bad a product is. So, let's start dissecting-
Pros
Before cutting the height and width of the cut can be adjusted
Attaches directly to the chainsaw bar
Lightweight allows more portability
Easy installation
Cons
Users have accused that the machine is made out of pot metal. So, that part is a bit vulnerable. One has to be careful while tightening the handle to the bracket.
It takes a little practice to get used to it.
Not up for a huge load of milling works.
Frequently Asked Questions
How much does it cost to mill lumber?
It costs around $250 per thousand board feet. Is wet wood easier to cut? Absolutely yes.
Is wet wood easier to cut?
Absolutely yes.
Is it better to split wood green or seasoned?
You can do both. But the normal method is to split before seasoning. Splitting makes seasoning easier.
What are the best logs for building?
Western red cedar and Douglas Fir.
Is it okay to mill dead trees for making a cabin?
If it's been dead for 2 years(highest) then you can use it.
End Note
This Farmertec Portable chainsaw is absolutely worth the cost. We are not saying this based on a hunch. We have already told you about the cons of this machine. Taking those cons into account, we are telling you that this is an awesome option for you in this price range.
Just keep your heads up with some regular troubleshooting methods and you'll be good to go. Oh, and it would be best if you avoided big projects with this machine.
Good Luck.