Being professional means getting the best item out there. You might disagree saying that you're a professional and you don't use the best items. Well, that's because you're already using it.
We bet you'll get the best one whenever you have to get something new related to your work. And Norwood PortaMill Chainsaw sawmill is just that kind of a product. This bad boy here is capable of handling all those humongous workloads without breaking a sweat.
Yes, it's a big strain on the pocket but it's absolutely the best bang for the buck.
Here's the deal-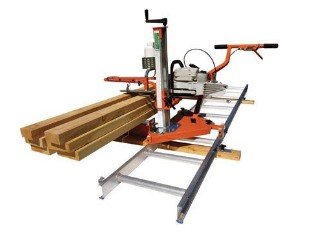 We've got convinced by its awesome features and everything here. But we know it isn't wise to jump to conclusions based on someone else's recommendation.
So, we have crafted up a complete overview of this product. Here we have discussed its probable user base, features, and specifications. Lastly, we have put up some FAQs.
We believe after all this you'll be able to decide whether or not this product is good.
Who is the Norwood Portamill Sawmill for?
No product specifically designed for a specific group of people. But some specific people can get the most out of some products. It's the same for Norwood PortaMill Chainsaw sawmill. So, based on its features and specs we have prepared a few user bases who would get the most out of these portable sawmills.
Here it goes-
Professional millers or carpenters who work remotely.
People who want to get the best product regardless of the cost.
People who are into innovative yet costly products.
People who don't have a problem with heavy machines.
Household users who are willing to spend a bunch for their household milling works.
Business owners who have frequent milling jobs.
In a nutshell, this is for people who can afford around a thousand dollars and who think to invest this amount of money for a sawmill will be worth it.
Product Specifications
The specifications will help you to compare this sawmill with other options.
Log Diameter – 14 inches
Log Length – Depend on the ladder length
Board Width- 8 inches
Maximum Bar Length- 24 inches
Motor- 50cc or greater for small to medium-sized logs and 65cc or greater for medium to large logs
Weight- 92 pounds
Warranty – 1 year
Machine size – During shipping it comes in two boxes. The first box is 26†x 12†x 6†and the second box is 28†x 6†x 22â€.
Product Features
Product features define the quality of a certain product. But most of the times end users get confused with the features. Some features become irrelevant with regular usage. Here we have listed up some relevant features of Norwood PortaMill Chainsaw sawmill.
Now, let's get going-
Ladder Anchors: It's here for solid track set up. You'll also get quick connect/disconnectknobs which will allow easy setup. Moreover, you'll need to tool for the setup.
Track Sweepers: with these, you can remove sawdust from the track. As a result, you'll get some smooth rolling action.
Adjustable Outrigger Arm: Because of this, your sawmill will adjust to any extension ladder width. Moreover, this arm is equipped with two track sweepers and quick release wheel keeper.
Log Clamping: This sawmill is equipped with two log rest or log dog assemblies. As a result, you'll get fast dogging and positive locking.
Saw bar and Chain Guard: You'll get a guard with the sawmill which will protect your saw bar and chain guard.
Accurate Depth of Cut: The scale indicator in this sawmill will allow you to get an accurate depth of cut. Just make sure to use the saw head locking handle accurately.
Chain and Bar Oiler: This doesn't come automatically with the sawmill. It's optional with the main product. But if you get it then it'll help you out a lot. Unlike the chainsaw, this oiler kit delivers oil to the tooth of the chainsaw bar. Therefore, you get reduced friction and heat.
Smooth Operating: This machine gives out the ultimate user comfort. It comes with a smooth operation of the crank handle. By turning this crank handle clockwise and counterclockwise, you can raise or lower the saw head. Moreover, Norwood has this patented throttle actuator. With this, you can easily activate the chainsaw throttle at the push handle.
We believe these were pretty awesome features and were enough to give you a perception about this product. But just as every coin has two sides, this sawmill, too has some pros and cons.
We have listed up some pros from the features and some cons based on user reviews. So, let's take a look-
Pros
Easy to assemble.
Can transform your chainsaw into a machine that works like an actual sawmill.
Cutting depth can be adjustable.
Two cross bunk assemblies can secure the logs super easily.
Cons
Considering other sawmills, this one is pretty heavy.
While working many fasteners tend to come loose. Especially the set screws which are responsible for adjusting the pitch and angle of the saw.
Some users have found different issues on the log dog.
Basically, all those features can be put into the pros section. But we made some short points out of formality.
We have already mentioned that we got those cons from user reviews. One thing was common among users. That is almost all of them liked the product and were up for recommending to others.
Frequently Asked Questions
Do I need that auxiliary oiler?
we highly recommend you take that auxiliary oiler.
How long does it take to dry green lumber?
The rule of thumb here is to allow 1 year of drying for each inch of wood.
Can I build with green lumber?
Yes. Just look out for molds.
Wrapping Up
Now that we have discussed everything related with Norwood PortaMill Chainsaw sawmill, you can decide whether you will get one or not.
But we are telling you that this one's really awesome considering the budget.
Happy Milling.