Your old patio can be cracked or cratered. If you want to make some change of this concrete patio, you can just build a raised deck over it. It is not an impossible work for you. However, a concrete slab that is damaged severely cannot be fixed properly. So, the best solution to make the patio beautiful is to build a deck. It is also less expensive.
You can do this yourself without calling a contractor. In this article, I am going to show you the easier way how to build a raised deck over a concrete patio.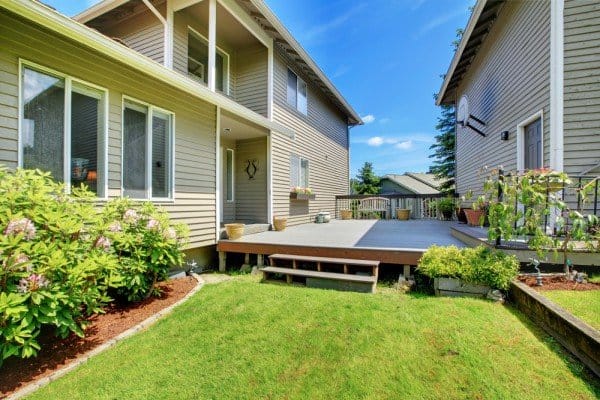 Building a Raised Deck Over Concrete Patio
Even over a worst conditioned concrete patio, you can install a raised deck. But beware of some situations and then start your work.
Read more: best concrete stain
Cleanup and Preparation
It is an easy part of the process. You have to clean the surface of the concrete slab. If you have an old deck, you have to clean the wood skirt, bolts and railing. If there is any crack on the concrete, you have to repair it. It will be good for your new decking.
Read more: best roof cleaner
Time and Tools You Needed
Let's see the time, material and tools you need to start the project.
Time
To make a deck over a concrete patio will take two or one weekends. A big one can take more days. Besides, different pattern form will take more hours to complete the job. Generally, it depends on the condition of the patio surface.
Tools
You need some simple tools to build and install your deck. You need two drills; regular one and a hammer drill. To cut the slippers and other wood, you need a regular saw, miter saw and also a reciprocating saw. Besides, keep circular saw, screwdrivers, flashing tape, levels, etc.
Materials
The main material of a deck is obviously wood. So, you need plenty of wood. When you go to buy wood, you should buy some extra wood. Choosing the wood depends on your living place. You can choose yellow pine or cedar wood. On treated pine, you can paint any color. You need extra because some beams need to resize, some will not properly straight. Buy a lot of screws. Besides, you need nails, glue, silicone, wood sealer, etc.
Steps to Build a Raised Deck Over a Concrete Patio
Plan a Layout
At first, you have to plan a layout. Mark the location of the sleeper on the concrete patio. You should remember the extra sleepers for stairs. The sleeper's layout will depend on decking layout. For standard decking, you need some parallel sleepers. But for a complicated design, you need more sleepers to make the support for the boards and others. It will also take your time.
Solve the Water Problems
Most of the time, the patio corner had settled by many years. For this reason, rainwater can be stuck in the basement. It is a better idea to fill the reservoir with an exterior self-leveling compound. Besides, you can make a thin coat and make it a slight slope to run the water away. You can keep a gap between the house and the patio. Besides, there are some other ways to solve the water problem.
Work With the Sleepers
Mark the positions where you install the sleepers on the concrete base. You can draw some straight line to do it properly. Take a hammer drill and drill the sleepers and concrete. Then use the concrete screws. Now put the sleepers along one border of the slab. Put the sleepers to form a flat base. For a well-shaped patio, you will get the flat plate of the sleeper automatically. But for sunken patio areas, you may have to spend a lot of hours to put the sleeper flatly. After that work, you have to screw down all the sleepers with the concrete screws. It is better to penetrate the screws to the concrete by 3-1/4 inches. It is a perfect size.
Install the Deck
Now it is time to install the deck. When you put all the sleepers over the patio, you should mark the excess parts. Then cover the sleepers with tape. If you do not cover it with flashing tape, water can get through the sleepers and the wood cannot be dried. Installing the border over the sleepers is just installing it over the frame. Use fascia board to cover the sleepers end. Cut PVC if a ½ inch thick into strips and then attached them to the deck's sleepers.
Keep Your Deck Simple
If you make a basic deck, you can install the deck faster. Besides, you need not help of a carpenter to do this job. A simple one will cost you less. So, if you do not need a complicated deck, try to have a standard and simple one to save your time, money and power.
You can build a raised deck over concrete base in two ways. One is to demolish your concrete patio completely and then build a wooden one as the replacement of concrete base. Or you can use the slab as the base of the deck and use wood as the top of this deck. For a good conditioned concrete base, building a raised deck is easy. But for a broken or cracked base, you need to repair the base at first.
As a beginning DIYer, you need to know details of how to build a raised deck over a concrete patio. Choose a simple deck design because it is right for you. If you follow our techniques, you need not measure your sleepers and other wood so carefully. The method is straightforward. By following it, you will not fail to build your deck over your concrete slab.
You may also like:-