We hope you'll agree with us when we say:
Colorful brick paint has become quite a fashion and luxury statement in recent times.
Well, there is only one problem. Finding that "Good" brick paint isn't an easy job. That's why we have created a list of best brick paint 2020.
Generally, we see buildings and other brick structures painted in various colors and styles. We paint our exterior and interior brick walls for many reasons. We apply paint to bricks structures for two primary purposes; firstly, it increases the appearance of the construction or the structure, and second, it increases the durability and stability of the structure by protecting it from the consequence of water and light.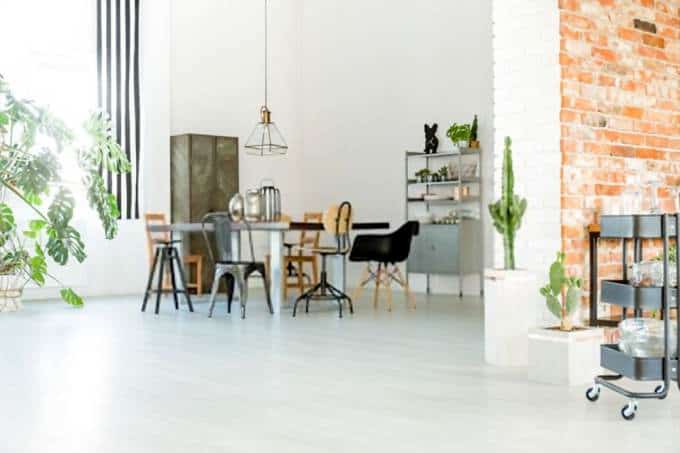 Different national and Multinational companies around the world usually manufacture and market various types of paints. Nowadays, different kinds of paints exist in the market. It seems a bit harder to realize the dissimilarity among the oil paint and emulsion paint or distemper paint, silicon paint, and acrylic paint or rubber paint.
Best Brick Paint 2020 Buying Guide
You need to understand the differences and utilities of the various types of brick paints available in the markets.
Types of Brick Paints
The functionality of the paints we use for interior and exterior application is different. For interior colors, paints can be done more with added aesthetics, easy maintenance with decorative purposes, washability, and a certain amount of damp resistance.
Nevertheless, exteriors are fully unprotected to all changing weather conditions. So, you need paints to protect against UV radiation and also fungal growth. Paints may also save the exterior from the moisture during the rains. Anti-color fading and crack prevention are other significant properties expected from exterior paints.
Based on composition: you can categorize paints into two main types like
Oil-based: Oil-based paints need a bit longer period to dry; they have a nice-looking gloss, and also are easy to smooth.
Water-based: Water-based paints dry fast and emit little amounts of toxic.
Following are different kinds of paints according to their use and functionality.
Distemper:
A range of colors of distemper is available in the market. However, it is a water-based paint, and you will get a matte finish to your brick walls.
Though its expected durability is 4-5 years, distemper is non-washable because it has little resistance to dampness and easy to peels off when wet.
Emulsion:
Emulsion provides a quick-dry, water-based paint and a rich, matte finish. Emulsions are relatively resistant to moisture and somewhat washable, unlike distemper. You may apply emulsion to any surface, and it is less toxic compared to oil-based paints because it discharges less VOCs (Volatile Organic Compounds).
VOCs are substances that quickly evaporate at average room temperature, and are detrimental to human health. Emulsion paints can be dried slowly in an atmosphere with excessive moisture.
Enamel:
Enamel paint is an oil-based paint and provides a rich, glossy effect. It is basically moisture and mildew resistant requires a longer period to dry. It is exceptionally durable, and you can clean it easily. The most common form of enamel paint is oil paint.
Enamel paints have terrible odor and skin irritation effect. Due to its cleaning properties, it is usually applied to busy areas like walls of passages, kitchens, etc.
Luster:
Luster is better quality and improved enamel paint. It provides a pearl-like finish with a slight sheen, but not as glossy as oil paints. It has a high resistance to moisture, fungus, and mildew.
Luster paint is costlier than enamel paint. It is easy to clean and smooth finish; so, you may best suite it for rooms for social gatherings and other busy places.
Texture:
For creating desired textured patterns on walls, you need to apply Texture paints by using rollers, putty knives, trowels, and brushes. These paints become very popular because people are choosing for one textured wall, which turns into the 'show wall' in their homes.
These paints are the most costly of the lot and are available in both water-based and oil-based variants.
Cement:
Cement paint is a water-based paint. Due to its durability, you may mostly use it as exterior paint. Since it prevents water intrusion and is resistant to heat, you can use it often in contact with elements on walls such as a yard, sun-deck, etc.
Selecting the accurate paint depends mostly on the decoration, room location, and overall luster. There are a few things to keep in mind before continuing to the next step.
Different Kinds of Interior Paints
Nowadays, various types of interior wall paints are available in the market. If you have adequate knowledge about the surfaces to be painted and the effects of that paint, it is easier for you making the right selection.
Matte Paint: It is the common type of interior brick wall paints. It is easy to spread over, though it may require more than one coat to produce a decent solid color.
Matte Enamel: It's a lot like matte paint, but it tends to be more durable. You can clean quickly and rarely requires retouching. It's also great for the kitchen, where you need to erase walls regularly.
Satin: The finishing appearance is between matte and gloss. Also it creates a low, soft shine. Satin makes it ideal for places where you need to clean walls regularly. However, you should not use a satin finish that has a wall with defectiveness as it will create them more exposed.
Eggshell: An eggshell finish has a tremendously delicate shine but not the same smoothness like a satin finish. This paint is a much more suitable interior wall paint because it doesn't highlight defects.
Semi-gloss: The paint produced less shine than full gloss paint does, but decent coverings are easy to achieve with just a single coat. It is suitable for heavy use, offers a hard finish.
Gloss Paint: It expresses all the inaccuracies on a wall and attains an even coverage on a wall that will often need more than a single coat.
The Ultimate Guide for Exterior Paint
Generally, exterior paint defends and decorates your outside brick walls like house walls, garages, garden walls etc. Besides, this can revive the front of your home to maximize kerb appeal and make a great first impression.
Different Kinds of Exterior Paint
Solvent-Based or Oil-Based: Oil-based paint takes more times to dry than latex — typically requires 24 hours for curing. You can use turpentine or paint thinner to clean up this paint.
Water-Based or Latex: desiccating quickly and is easier to clean than oil-based paint, requiring only soap and water. Besides, it expands at hot temperatures and also contracts at chiller temperatures, so it is sustainable in different situations.
Characteristics of Quality Exterior Paint
Hiding Power: Hiding power comes from the pigment of the paint, and is the capability to cover where the paint is applied.
Color Retaining: The ability of the paint to retain its original color during exposure defines its color preserving.
Chalking Resistance: It inhibits the white chalky dust from developing on the surface and lessening of the paint's color. Chalking occurs over a period when the binder slowly degrades.
Blister Resistance: It keeps unnecessary dampness from coming through and troubling the paint layer. If you apply paint over a damp or wet surface, you can count on an unwanted blistering problem.
Expected Essential Qualities in Exterior Paint
Think about the following issues before buying paint irrespective of the outdoor project:
Stability
Generally, more costly paints have higher-quality elements and these come with extended guarantees. If your paint is with a fifteen years warrant; then you will expect it more lasting than paint with a five to ten years guarantee.
Low Volatile Organic Compounds
Chemicals and diluters which we find in paint products can release poisonous gases known as volatile organic compounds (VOCs). If you inhale these foul-smelling fumes, then it can reason headaches and vomiting. Oil paint is greater in VOCs in the two categories of paints, oil, and latex.
Dry Time
You should delay till the initial coat is dried out before spread over the next coat because various paints have various dry times. However, maximum latex paints need four to six hours to dry. Oil paint needs six to eight hours to dry and however, you may need up to one day delay before you can apply a second coat.
Durable Color
Low-quality paints have cheap tints that have a tendency to to fade away over time, especially if the painted surface receives direct sun light. Remember, darker colors are more likely to fade away than the light colors on your outside.
Weather Resistance
For long time, oil paint was the usual paint for exterior painting because it is very good at enduring rain. All of that has transformed with the improvement of acrylic-based latex paint. However, acrylic is a binder that lets the latex paint to flex somewhat, making it less fragile and less prone to crack, and better able to withstand rainfall.
Weather Suitability
The need for paint varies by region. Nonetheless, additives of the paint can create the dissimilarity between a paint job that has been around for more than a decade and lasts only a few years.
Surface Suitability
You should apply the same kind of paint which is at present on the surface. Placing oil paint over the latex may sources bubbling and cracking because diluters in oil paint meltdown the latex.
Features of Exterior Paint
The following are the features you may look for in your preferred brick paint.
Dirt & stain-resisting exterior paint: By dirt-resisting paint, you can make it hard for stains and residue to decay your painting job.
Self-cleaning exterior paint: This pioneering paint claims a self-cleaning formula so that rains can easily wash dirt.
Algae and mold-resistant exterior paint: Algae and mold-resisting paint offer a long-term shield for your outside surfaces.
Waterproof/ water-resistant exterior paint: Waterproof and water-repulsive paints help guard exteriors from rain and damp. If your brick surface is mostly porous, you need extra precautions to protect it.
Breathable exterior paint: If you like to protect your exteriors from the rain, your brickwork must expel the damp.
Color matching exterior paint: Color match your exterior paint to make sure it is the exact shade you want.
Frequently Asked Questions
What is Acrylic?
Acrylic is water-based paints. These paints have great density of particles that is vital to make an outstanding finishing on the wall.
What is emulsion?
Emulsion is acrylic-based products, which are also water-based. These paints are suitable for interior brick wall surfaces as well as exterior brick wall surfaces.
What is the difference between distemper and emulsion?
Both emulsions & distempers have a few similar features such as both are lasting and they offer from a wide range of shades to choose. But some of the obvious dissimilarities are that emulsion paints give your walls a glossy and even finish, it is long lasting, besides it offer from a broader variety of shades to select.
What is the difference between solvent-based and water-based paints?
Water-based paints are thinner, therefore, dry quicker than oil-based alternatives; they also have a lower VOC (volatile organic compounds) content and are therefore more eco-friendly.
Water dilutes water-based paints, while solvent as Mineral Turpentine Oil (MTO) dilutes solvent-based paints. Emulsion is water-based paints however enamels, luster, and matt finishes are solvent-based paints.
What is the difference between emulsion and enamel?
Emulsion paint is water-based with some additives to make it more durable, but water and detergent can usually scrub off. Enamel paint is solvent-based, and permanent. You can only remove it with a solvent.
Does your external masonry paint have a minimum temperature for use?
Masonry Paint should not be applied to surfaces when the ambient temperature is below 5 degrees or if there is a risk of rain during application or drying. Avoid painting in full sun or on warm surfaces.
What paint is best for painting a bathroom?
The Intelligent Eggshell has a solid yet delicate finish that is made to withstand damp, stains, etc. However, It is an outstanding paint for bathroom walls, especially for rooms that may have limited extraction or suffer from condensation.
Wrapping it up
In general, shine defines the degree of light reflection of the paint. Typically, the less sheen paint it is, the less stain-resistant it is.
Nonetheless, your home is the most valued asset you probably possess; so it is imperative to retain it safely. Indeed, all the best brick paints available in the market 2020 are particularly aimed to safeguard your home. Besides, you will get a long-lasting matt gloss on even or uneven external and interior walls to deal with all weather.