Roof tiles need to wash once or twice in years. In some case, that will be extended 1 or 2 more times. Thinking of how to clean roof tiles? for many new homeowners who have beautiful tiled roofs is pretty obvious.
At first point, the work of procedure is wholesome. But in reality its not, you need to figure out what you need and how to utilize them to clean all tie tiles. You have to know what kind of roof tiles has been used on your roof and the cleaning procedure. Traditional concrete and slate tiles are commonly used in the USA including other types. For most tiles and the come method of cleaning is using a scraper, water, brush. You may need a few other items to clean the tiles thoroughly.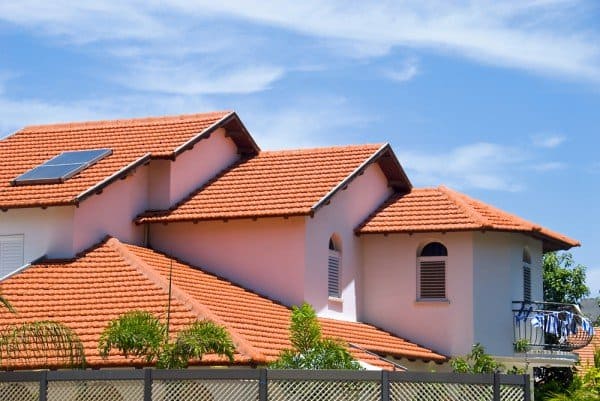 How to Clean Roof Tiles ?
Before the start, we are going to suggest one thing. Always read carefully the manufacturers guide and discuss with experts if needed. Different tiles are crafted from different materials and feature different types of coating. So, the tile's take care tips or procedure will vary one to another. That is why check the user manual of your tiles well.
So, now its time to know how to clean roof tiles efficiently but for that let's start with some extra but essential works.
Read more: best roof cleaner
Required Tools
You will need some simple equipment in order to clean roof tiles. These are,
Safety First
Although cleaning roof tiles could be dangerous. A simple mistake can lead to damage the roof or yourself. So you need to take care of everything to avoid any incidents.
So, before you start washing the tiles, ensure the safety has been actively considered. Use some personal protective equipment and other safety equipment. Get these things first,
Fit a temporary safety rail
Wear firm, non-slip boots
Wear chemical protective gloves
Wear wraparound safety glasses
Safety line and harness
These safety tools are essential for any size and pitch of home/commercial space roof. Safety line and harness may not require for all kind of roof. These are needed for high pitched roofs where moss and algae are build-ups. Algae/moss can make a surface extremely slippery. Its best get a partner so that he can pass the tools and materials up onto the roof. Otherwise, you have come again and again to get one tool or return something. Which will delay the work, spoil the rocking mode and also can lead to any accidents?
Disconnect Water Tanks and Clear Your Guttering
If the gutter system for your home connected to the water storage tank, disconnect it before starting the cleaning. Tiles are cleaning procedure use lots of chemicals. If the water storage combined with the guttering system, the compounds may find its way into the storage somehow.
If the gutter is not clean for a while, you can clean it before the roof cleaning. Wash it by yourself just using a gutter brush. Use a gutter guard if the gutter easily fills with debris.
Remove Moss and Algae
Roof or wall tiles are often covered with moss or algae if not clean for more than 3 months. Random moss spots here and there are easy to clear, but the excessive build-up of algae and moss is pretty hard to remove. Use a roof scraper to scrape the extra debris from the tiles. Just be careful, to not damaging the tile. You will find many kinds of roof scraper designed for scraping. Dont use those crapper use for lawn scraping. Those could potentially damage the tiles.
Now the thick moss and page pad is obliterated, apply an anti-moss spray. If your manufacturer has a particular recommendation for this job, feel free to buy that spray. You can also have any DIY spray if you want. Your tile could be sensitive for particular chemicals. If there is any mention avoid buying any spray, content with that.
Spray the bottle by walking backward away from where it has been applied. Which means you do not step into the wet, treated surface. Once you are done spraying let it rest for some time or as per the product's recommendation.
Use Water to Clean Your Roof Tiles
Now its time to wash the anti-moss spray and other debris of the roof. Some people use high-pressure water spray to clean the tiles, but that can damage the tiles. It's better to use an alow pressure water hose and gentle brushes to clean the tiles though only.
At this point, the tiles become wet and slippery. You better use all the personal and other safety equipment and get the help of your partner or friend.
Also remember..
If you find the technique is not growing for your roof tiles, then hold on. Without considering apply any harsh chemical, you better consult with an expert to ask for help from any professional organization. Roof tiles are not temporary things. You are going to use it for many more years. Considering the health of tile's structural condition is essential and beneficiary for the future.
Its' possible there might some other changes needed to make the tiles entirely clean and shiny. Some people start to clean with a DIY cleaner combination of vinegar and liquid soap and let the tiles soak for a while. That makes the cleaning quick and result in a more shiny surface.
You may also like: best roof underlayment
Final Thought
If the roof tiles are broken or damage little or server, then you should fix it after cleaning it. Any roof tiles like synthetic roof tiles, metal roof tiles, lightweight roof tiles and others are easy to extension or repair. Many cleaning service company also repair damaged tiles with minimum cost. Fixing the roof is not luxury, its necessity, so do consider it.
So, now you know the answer of the age-old question- how to clean roof-tiles. Washing tiles are extremely easy. Just collect the brush, scrapper and other necessary items. You would be able to clean roof tiles like new within a few hours; without asking for help from any commercial service provider.