If your home has some open outdoor space, it must get muddy after some rain. Well, you can fix that by pouring in a concrete patio against your house. If that isn't done, you outdoors will never be neat and clean after rain. But, if you do it correctly, your patio will always stay as pristine as ever.
How about this step by step guide on how to pour a concrete patio against a house perfectly to help you out?
You'll have to follow a 10 step long process to get the job done. You start off by preparing the frame for the patio, then you pour it out to make sure the finish is nice by adding in texture too. Lastly, you wait for it to be ready for use.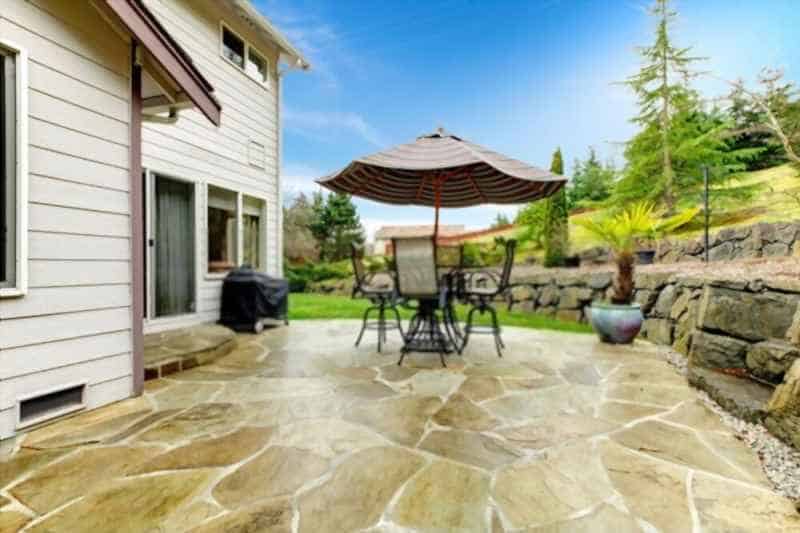 That was a short glimpse into what we have here. We'll move into the process shortly. But first, let's check out the stuff that you'll need for the job.
Get These Essentials
Here are the essentials that you'll need to get the job done properly.
Hammer Drill
Hammer drill is one of many kinds of drilling machiens available. You'll need this to drill through different areas when making the frame.
Concrete Bits
As you're going to drill on concrete surface, these drill bits are needed to drill concrete. Any other bits won't make a clean hole.
Line Levels
This is pretty important. Use this to keep the concrete slab level up to the standard.
Measuring Tape
In several steps, you have to take measures on an accurate basis. You'll need this for any kind of construction. So it's better to keep one close.
Rebar and Rebar Ties
You'll be making the frame with this to ensure maximum strength. Also, the rebars need to be tied together to fortify the structure. This is where the ties come in.
Rubber Boots
These boots are a must when you're working with material like concrete. Wear one when you work.
Now, let's move on to the 10 steps and get the job done.
How To Pour A Concrete Patio Against a House
Here are the 10 steps that we laid out to make sure that you understand easily. Read them properly to get the job done all nice and perfect.
Step 1 Of 10: Prepare For The Job
The preparations for this job is the most important step. Because concrete is very strong and heavy. So, you'll want to do it once and not multiple times.
You need a proper permit to pour a concrete patio. Start off by securing a permit from the city authorities.
Then markt the new patio area with some paint. Turf paint should do the job just fine. You'll need these guidelines to carry out the rest of the steps.
So, let's head on to the next step here.
Step 2 Of 10: Excavate and Compact Area
Now, you need to excavate the total area of the patio and compact it in order to get some good hold.
Use the hammer drill to excavate and be careful when you do it. If you don't have the required expertise, we recommend that you leave it to a professional.
So, how far should we excavate and compact?
Well, in this case, you should keep doing it until you reach enough area to hold 4 inch depth of concrete.
Once you're done with that, move to the next step.
Step 3 Of 10: Grade With Slope
You don't want water stored on your patio, right? Well, in that case, you have to make sure that your patio has a slight slope.
This ensures that any water on it will simply roll off away from your home or structure. So how do we make that happen?
Well, you grade the excavated area to create this slope so that water rolls off. This is something most people forget. So keep it in mind when you work.
Let's move on then.
Step 4 Of 10: Install the Frame
Now, it's time to install the frame. This frame is important because it will hold your concrete until it dries and it is the foundation of your patio.
If the foundation is weak then the concrete will break easily. So properly focus on this one.
Start off by installing the form boards and stakes. Then, set the rebars and tie them up with rebar ties. Make sure they're built on 18 inch centers.
Check your city code for proper instructions on permitted measurements before doing this. Once it's all done, call for an inspection.
Once the inspection is done, move to the next section. We have completed the preparations. Now, it's time to get some work done.
Step 5 Of 10: Pour The Concrete
We start setting down the concrete patio with this step. Start off by pouring the concrete in the forms area. Make sure the pouring is even.
As I have mentioned before, concrete is strong and heavy. So, you have to get it done in one try. Thus, you have to pour it even.
Once the pouring is over, move on to the next step.
Step 6 Of 10: Level The Concrete
Now you'll have to level the concrete with the line levels. Take your time with this. The concrete needs to be level so that mishaps don't happen.
Slowly move with it to ensure the perfect balance for your patio.
Once you're done leveling the concrete patio, move on the next step.
Step 7 Of 10: Run Edging Tool
Now we start adding the finishing touches to the concrete. Take the edging tools and run them on the concrete to make the edges smooth.
This will give your concrete patio a nice and premium look. Be very careful when using the edging tool. Take your time.
Then, once you're done finishing the edges, move on to the next step.
Step 8 Of 10: Smoothen The Finish
It's time to smoothen the overall finish of your concrete patio. This can be done with a float made out of aluminium and magnesium.
Use a float to make the surface smooth. After you've finished the smoothening, move to the next one.
Step 9 Of 10: Apply Texture
We're almost done with the job here. So, you can get a bit creative in this step. Try applying a slip resistant texture to the surface using a broom.
It makes sure that you don't face any difficulty walking in the patio.
Now, let's move on to the last step.
Step 10 Of 10: Remove Foam Boards and Get Inspected
Once the concrete dries start taking off the foam boards from the concrete. Then call the authorities to book an appointment for an inspection.

Once you pass the inspection, your patio will be ready to use. Now you can enjoy it in all its glory.
You may also read:
Frequently Asked Questions
How thick should I pour a concrete patio?
In the case of most residential concrete, you'll need to pour the concrete at a depth of 4 inches at a bare minimum. But, it's better to check with your local authorities to get to know the city code.
Can I extend a concrete patio?
Yes, you most definitely can extend your existing concrete patio. You can do this by using a hammer drill with a concrete bit to drill dowel holes in the existing slab. After drilling the dowel holes, install rebar tiles and secure a rebar grid in the new extension area before you pour in the concrete.
Is pouring a concrete patio cheaper than using pavers?
Pouring a concrete patio is cheaper than installing a stone patio paving. The paver patios are made with more expensive material and the process of installation is more complicated than pouring a concrete patio.
Can I use Quikrete to pour a patio?
You can use Quikrete to pour a patio. But, it'll be more difficult to do so. When you pour a concrete patio, a truck delivers you concrete that is ready to be used. But in the case of Quikrete, you'll have to hand mix it in a wheelbarrow or use a concrete mixer to mix water with the bags of concrete before applying it. You'll need to stick to smaller projects if you use Quikrete.
How long does it take to pour concrete?
The amount of time that takes to pour concrete depends on factors like your experience, the amount of labor put into the work, and weather conditions. But it usually takes a day for the excavation and setup, and another one for city inspections. The concrete pouring itself will take an extra day.
Wrapping Up
That was all that we had on how to pour a concrete patio against a house. We laid out these 10 steps to make your life easier and we hope they helped.
Make sure you get the inspections done properly before you move with the work. This is for your own safety concerns.
Follow the guide sequentially and you'll have some outdoor space that is pristine even after rain.
So, let us know if you think we can improve this guide for other people. You can leave your feedback in the comments below.
Till then, stay safe and healthy.