In the construction industry, one of the indispensable tools is a concrete saw. This tool is not robust and sturdy, they are high performing and very versatile to help you cut through a spectrum of construction material efficiently and quickly.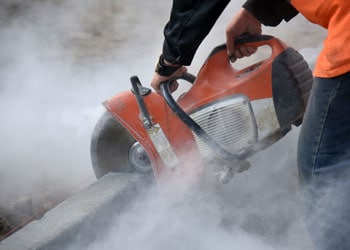 Aside from cutting through concrete, these tools cut through tiles, paving, stones, conduit, brick, and just about any other dense construction materials. However, like most products on the market, there are a plethora of options coming with different designs, pecks, prices, drawbacks, etc.
Nevertheless, I've expertly handpicked the best concrete saw to deliver a hassle-free and smooth performance. Also, you will find my buying guide section helpful in making an informed decision.
Last update on 2021-11-23 at 05:12 / Affiliate links / Images from Amazon Product Advertising API
How to Choose the Electric Concrete Saw
Concrete saw, also known as a road saw or consaw, is used to cut concrete, brick, asphalt, tile, masonry, and other sturdy and solid materials.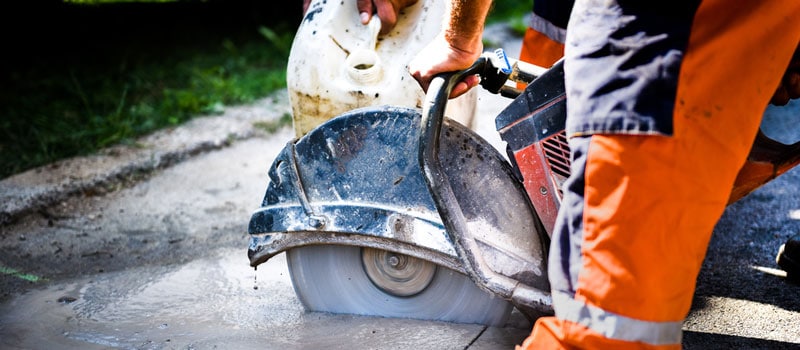 Varieties of Options
This power tool can be a big walk-behind saw, worm drive saw, small handheld cut-off saw or other styles. Also, these units can be powered by electric motors, pneumatic or hydraulic pressure, or gasoline.
Gas Vs. Electric Concrete Saw
The concrete saw is an incredibly heavy-duty tool and is available in a couple of varieties. The gas-powered concrete saws are mainly used for outdoor applications such as building concrete steps because they produce exhaust or fumes, which you don't want in your homes. On the other hand, electric concrete saws are ideal for indoor or enclosed space applications such as working in a basement.
Handheld Vs. Walk-behind Concrete Saw
You'll also find a handheld and walk-behind concrete saw, but with the handheld variety being more affordable than the other variant. However, the walk-behind model saves you from staining your back, especially while cutting up longer concrete stretches.
In addition, the handheld concrete saw is a go-to for portability and perform certain task like cutting the openings on a wall. On the flip, if you will be cutting longer stretches of concrete along a straight line, investing in a walk-behind model is a smart buy for a straight and robust cut.
Factors to Consider When Choosing a Concrete Saw
Brand names
Going for a product with a good reputation is a vital consideration. The concrete saw is meant to perform several cutting tasks on a wide range of sturdy and tough materials. Purchasing a tool from a well-known brand will likely increase your chances of owning a reliable machine and having a supportive warranty.
There are a couple of brands worth checking out; however, some are better at producing a specific type of concrete saw than the others. For instance, Husqvarna is a brand with a good reputation and a high level of trust. This brand offers several high-end gas concrete saws on the market, which makes them a go-to. But, Makita is also a good brand and ideal for people with a more flexible budget.
Among the battery-powered and corded electric machines, you have got a number of choices. Makita offers the best of these options, including brands like DeWalt and Bosch.
Portability
This is another factor worth considering, especially if you have to transport the machine regularly. Though in this section, we need to consider the weight and size of the machine based on the type of work you tend to perform. There is no point in purchasing a small, lightweight concrete saw if you required to higher cutting power and depth.
Dry Cut vs Wet Cut
A wet-cut concrete saw is an ideal choice for people looking to extend the life of their tool while suppressing dust excellently. When it comes to cutting masonry, stone, and concrete silicate dust is one of the biggest dangers, a wet cutting tool is more suitable. Needless to say, wet cutting will only offer these benefits if you have a water supply at the site of operation.
A Disc Cutter or a Chainsaw
Chainsaws come with a very large blade which makes big and heavy machines. This tool cut through more depth than a disc cutter. Using a chainsaw, you can cut shapes easily, unlike circular or disc blades that only cut in a straight line.
Despite the mentioned limitations, disc concrete saw is the top choice for many reasons. Using diamond cutting discs, these machines make it easy to cut through hard concrete. They are straightforward to use compared to other modes; thanks to their lower weight and compact design.
Because of these reasons, a lot of people consider concrete saws. Most of the models reviewed in this post can accommodate a disc of 12-inch to 14-inch, allowing you to cut through floors and walls with ease.
Electric or Gas
When it comes to power tools, it's always a debate to determine which fuel option to lean towards. Generally speaking, machines running of gas are more powerful than electric ones. However, they are often very heavy and require a lot of maintenance compared to their counterpart.
On the flip, most people lean more toward the corded electric concrete saws because they are easy to use and cost-effective. But keep in mind that gas machines are able to work anywhere, which makes them a top choice. Also, a gas machine can be noisy, unlike the electric ones with low noise production. Besides, the gas models are known to produce fumes, which make them inadvisable for indoor applications.
---
Best Concrete Saw Reviews
---
1. Makita EK7651H 14-Inch MM4 4 Stroke Power Cutter
Makita EK7651H 14" 75.6 cc MM4 4-Stroke Engine Power Cutter, Blue
Automatic engine decompression valve is engineered into the cam gear to reduce pull-start force by 40%
Pressure compensated carburetor with vented choke plate allows for optimum fuel delivery and reduces the occurrence of flooding during cold starts
Integrated all aluminum wheels reduce fatigue during long straight cuts and retract when not in use to prevent unexpected movement
Eliminates the need for separate mixed oil/fuel can
Lower noise at 92.7dB(A) and smoother idle for continuous operation
Last update on 2021-11-23 at 05:12 / Affiliate links / Images from Amazon Product Advertising API
The Makita EK7651H 14-Inch MM4 uses a four-stroke engine unlike other gas concrete saw using two-stroke engines. While this change doesn't directly influence the power of a unit, it offers an array of benefits.
This model with a 4-stroke engine can use regular gas, instead of the 1:50 oil to gas mix ideal for saws with two-stroke engines. This means you can start your concrete saw without having to mix oil and gas. Plus, you don't have to worry about burning out the motor accidentally due to the wrong ratio fuel mixture.
While most saws packing such punch could never operate quietly, this model is a bit quiet compared to other models in this size range. Thanks to its 5-stage foam-paper-nylon filtration system, Makita EK7651H 14-Inch MM4 keeps dust out of the engine, which in return, extends this tool's life.
On the downside, this saw might take a while to start up and sometimes require more than five pulls to turn the unit over. Not just that, this more is more expensive than our top recommendation, though it offers more value, especially the four-stroke engine, to provide robust performance.
Additional Specification
Best For: Improved Engine Durability
Voltage: 120 Volts
Style: Power Cutter Only
Speed: 9100 RPM
Weight: 28.4 pounds
What We Like:It features a four-stroke engine and works without having to mix the right oil-gas ratio.Quiet performance compared to other models in its category.An excellent filter to ensure the saw serves you for many seasons.
What We Didn't Like:This unit takes a couple of minutes to start. The price tag is quite salty.
---
2. SKILSAW SPT79-00 15-Amp Concrete Saw
Sale
SKILSAW SPT79-00 15-Amp Medusaw Worm Drive Saw for Concrete, 7"
Worm drive geared concrete saw delivers a complete cutting system
Cut-ready adjustable plunge lock and retractable front pointer guides saw along cut line and retracts for tight spaces
Wet/dry dust management system controls dust for cleaner cuts
Gfci protection reduces risk of shock to user
Rust resistant brackets and fasteners protects against corrosion
Last update on 2021-11-23 at 18:59 / Affiliate links / Images from Amazon Product Advertising API
The SKILSAW SPT79-00 15-Amp MEDUSAW Worm Drive Saw is a worm drive saw as the name implies. This means it has a longer and narrower saw unlike the circular saw, which makes it an ideal choice for DIYers, contractors, and handymen to cut in tight spaces and better without requiring additional effort.
This model runs on electricity, which means maintaining this tool is easy. However, you might be constrained to places with a power outlet. This concrete saw includes a retractable pointer guides, making it easier to follow a pre-drawn line.
This worm drive saw will work amazingly with a wet or dry dust management system and features GFC protection to ensure users are safe when using water with this electric-powered saw. In our experience, we will find the wet dust management system the most suitable, as dry dust management system tend to leave a lot of dust left behind.
Further, this model only works with 7-inch blades, which means you won't be getting enough depth as other top tools reviewed in this list supporting a 12-inch or 14-inch blades. Overall, this tool offers some benefits, but the major drawback is not being able to cut the same depth or attain high speed like the bigger saw.
Additional Specification
Best For: Complete cutting system
Voltage: 120 Volts
Style: Concrete Medusaw
Speed: 5100 RPM
Weight: 16.9 pounds
What We Like:An electric-powered model with low maintenance.Retractable pointer guides for efficient cutting.Suitable with both dry/wet dust management for extended life.
What We Didn't Like:Small blade making it difficult to cut high depth.The dry dust collection could be better.
---
3. MK Diamond 159345 Walk-Behind Concrete Saw
Sale
Last update on 2021-11-23 at 05:12 / Affiliate links / Images from Amazon Product Advertising API
Coming last but not the least high-end saw on the market. This tool is the best ideal for people looking to cut through several sturdy materials daily. This product is a fierce beast running entirely on gas.
Further, it comes with an impressive 6.5 horsepower and packs enough sheer force in its compact engine. Even more intriguing, this unit allows you to use the MK-CX-3 on wet or dry surfaces, a unique promise only a few saws can live up to.
This model packs a plethora of features. One of the striking features is its integrated water distribution system that ensures that both the blade's sides are wet and set for ripping. This tool sport a blade protected on both sides with an aluminum casting for durability and robustness.
This mount guard is responsible for the saw getting within an inch from the cutting surface, which means this equipment offers more precise cutting. Not just that, it features throttle control and adjustable depth on the console.
Additional Specification
Best For: Compact, Lightweight
Horsepower: 4.8 hp
Style: Wet
Speed: 3600 RPM
Weight: 116 pounds
What We Like: Offer a cutting depth of 5.5 inches with fantastic speed.This model work with both wet/dry distribution system.Compact engine, yet efficient. Lightweight.
What We Didn't Like: Starting this tool might be a bit challenging for some DIYers.
---
4. Husqvarna 967181002 K760 II 14-inch Gas Cut-Off Saw
Last update on 2021-11-23 at 05:12 / Affiliate links / Images from Amazon Product Advertising API
Husqvarna 967181002 K760 II is the best deal for people looking for a tool to cut through several constructing materials. This model offers a powerful cordless solution to outdoor contractors so slice through concrete.
This model comes with an impressive extended service interval and fantastic power-to-weight ratio, which is why this product is a top choice for many contractors. Also, this concrete saw has unbelievably low vibrations, therefore making it easy to use for long periods without dealing with discomfort or pain.
In short, you get a spectrum of handy features at a reasonable price. This unit also features a dust-sealed starter and an active air filtration to ensure that this serves you for many years by filtering the dust out while you cut through concrete.
The only drawbacks of this model are that it requires the right mix of fuel before starting up the first time, from then on you get quick start-ups. This can still be annoying, but overall, it offers better performance.
Overall, this Husqvarna 967181002 K760 II 14-inch Gas Cut-Off Saw is an excellent addition to any contractor's tool kit. This model comes with a reasonable price tag, easy to use, lightweight and requires little upkeep.
Additional Specification
Best For: Cut Several Constructing Materials
Horsepower: 5 hp
Style: Wet
Power Source: Gas-powered
Weight: 24 pounds
What We Like: Industrial grade saw offering a powerful portable solution.Active air filtration to prevent dust out.The special ignition system for a reliable and straightforward start.Long maintenance periods.
What We Didn't Like: Customers have a couple of compliant. Quite pricey.
---
35px
5. Evolution DISCCUT1 12″ Concrete Saw
Evolution DISCCUT1 12" Disc Cutter, Orange
Robust & versatile the Evolution electric disc cutter easily cuts concrete even tough reinforced concrete, stone, brick, paving and other materials.
Safe & economical, the 15Amp (1800W) hi-torque, electric motor means no harmful fumes. Alternative to high maintenance, petrol-powered disc cutters!
The ergonomic soft-grip, mid-position, front and rear support handles are positioned -to aid accurate cutting in both horizontal and vertical modes.
Supplied with a 12" diamond blade, the disc cutter can achieve a large 4" max. cutting depth through progressive / incremental cutting.
The safety guard is fully adjustable. The spindle lock mechanism allows simple blade replacement.
Last update on 2021-11-23 at 05:12 / Affiliate links / Images from Amazon Product Advertising API
This is another concrete saw from the DISCCUT1 series from Evolution Power Tools. This model is the best concrete saw option for people on a tight budget. This model is a powerful and versatile concrete saw offering impressive performance for DIYers, contractors, and handymen.
Evolution DISCCUT1 includes a powerful 15 amp/1800-watt motor to ensure users can cut through just about any kind of materials including stone, paving, concrete and brick quickly.
The DISSUT1 features a diamond blade made to handle heavy-duty work and stand the test of time. This model is said to be able to have a 4-inch cutting depth through incremental/progressive cutting. This means there is less likelihood of your struggling or bogging down when cutting through a wide range of sturdy and abrasive materials.
For those looking to minimize their footprint, this saw is a good buy. Evolution DISCCUT1 is powered using electricity, which is an ideal alternative to hard-to-maintain, gas-powered models.
Aside from that, this tool is relatively quiet, with 112 dB noise level and fume-free operation. These factors and many more makes it an ideal choice for indoor contractors with easy access to electricity and a necessity to work without making a lot of noise in the neighborhood.
Additional Specification
Best For: Tight budget
Horsepower: 3.21 hp
Power source: AC
Speed: 5000 RPM
Weight: 21 pounds
What We Like: Lightweight with just 21lbs. Easy to use with front and rear handles, and ergonomic grip.Low price without compromising impressive performance.Noise-free and fume-free operation.
What We Didn' Like:This model is not ideal for outdoor contractor, especially for areas without a power outlet.
---
Concrete Saws Comparison Chart
Wrap It Up
A concrete saw packs a lot of power and is a useful tool that helps handle any kind of job that has to do with cutting through sturdy materials. If you need to get your hand on one of these handy tools and looking to rent one, you should consider how long the job will take you.
Having the right tool and the right job, buying a concrete saw could be a smarter decision about renting a tool. In addition, if you consider the drawbacks of these tools, you will discover that there are a tad amount of complaints by customers, even for machines coming at an affordable price.
Therefore, you can feel quite confident about your purchase. Whether or not you make an investment in concrete saws is entirely up to you. However, we hope this article makes it a little bit clearer and guide you in making the best choice.